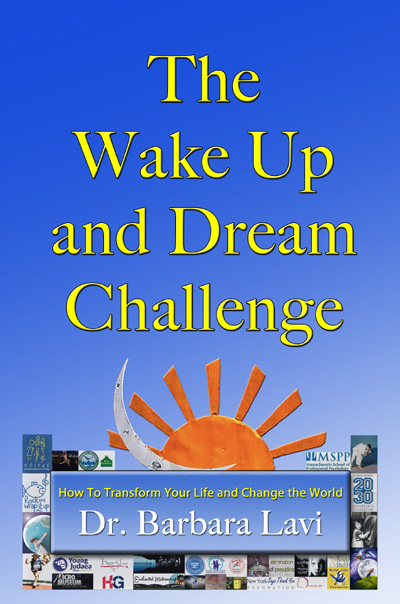 "This is a must have book, helping everyone to open up and start
dreaming again."
Ron Peck, Founder
The Blind Judo Foundation

Dr. Lavi's 's "ideas stayed with me
all these years & helped me...
through an even more frightening
time of horrific cancer treatments. I would not be who I am today
without her help & guidance."
L. D., Client

"I feel better than I have in years!...consider your profession
well chosen & your job well done.
You changed my life!"
J.C.P., Client

" I still pinch myself to make sure
I'm not dreaming."
Jody, based on a client's story
included in the book.
In The Wake Up and Dream Challenge, Dr. Lavi shares her cutting-edge techniques developed as a Staff Psychologist & Coordinator of both the Child & Trauma Teams at Harvard Pilgrim Health Plan, Clinical Director of the Delphi Center in Burlington MA & in her private practices in Boston & Connecticut.

"Witnessing my clients as they achieved amazing transformations & accomplishments inspired to write this book."
Dr. Barbara Lavi,
Clinical Psychologist,
Author of The Wake Up and Dream Challenge


The Wake Up and Dream Challenge will...

- Teach you how to 'dream it forward' at any age regardless, financial, health or personal challenges

- Inspire you with true stories of clients making what seemed impossible possible, so that you can too

- Show you how to silence your inner critic & set yourself free from it's restraints

- Empower you to take control of your future by becoming your own 'dream parent'

- Help you program your own DPS (Dream Positioning System™) to chart your journey to a happier life


By purchasing this book you are not only helping yourself, you are also helping to change the world. One half of the profits from this book will be donated to one of the 21 nonprofit organizations featured in this book that help others accomplish their dreams.
To determine which nonprofit organization will benefit from your purchase, please make your choice on the Non Profits page